Microsoft Outlook 2013- Sharing your Calendar
There are times when it would be really handy for your colleagues to view your calendar for a specific time period.  You may not wish to share your whole calendar with them.
With Outlook open:
Create a New Email
Type in the recipients email address(es) and text in the Subject field.
Click on the Insert tab and select Calendar from the Include group on the Ribbon to open the dialogue box below.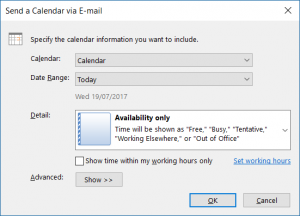 In the Calendar field click on the drop-down arrow and select the calendar you wish to share. If you have a number of email addresses then you will normally have a calendar for each of these available.
In the Date Range field select a data range from the drop-down list or select Specify dates… to customise this field.
Click OK
This will insert the calendar details into the body of the email and attach a calendar file (.ics file). Clicking on the attachment will open your Calendar in Calendar view, but will only show the Date Range and Detail that you specified.
Note
Your recipient do not have to be an Outlook user to be able to view this information.
If you update your calendar then you will have to re-email it to your recipients as it doesn't automatically update.